02-05-2016, 10:54 AM

(This post was last modified: 02-05-2016, 11:25 AM by

KedzioR_vo

.)
Hello!
This is my first battle report from my third GodSlayer game and first using original miniatures.
I played a BaneBrood Reavers army - Reaver Tyrant named ThoRmund with Plessian Axe, WitchWeed Extract and Gut-Plate of Negirrath was the commander, and his troops was 9 Reaver Tribesmen led by ThoRbjoRn and accompanied by a Fallow Shaman Crazy Cow (Bugstalk Eyes and Long Legs).
The first two games I played with a pure Reaver army (one more Tribesman, slightly changed Tyrant and Ravager), but after seeing how beautifly Shaman works with Mutable Tribesmen I think that I'll be using him often
My adversary and a good friend -
HanSolo
- was leading an army with Centurion (some armour ignoring special rules of my weapons, some sword giving him +1 Strike Rank), PRinceptor and 2 units of Legionnaires 4 guys each. I think that
HanSolo
will add some his thoughts too.
We are an Infinity players and we have much sci-fi terrain and less fantasy, so here's how our battle table looked after deploying the troopers: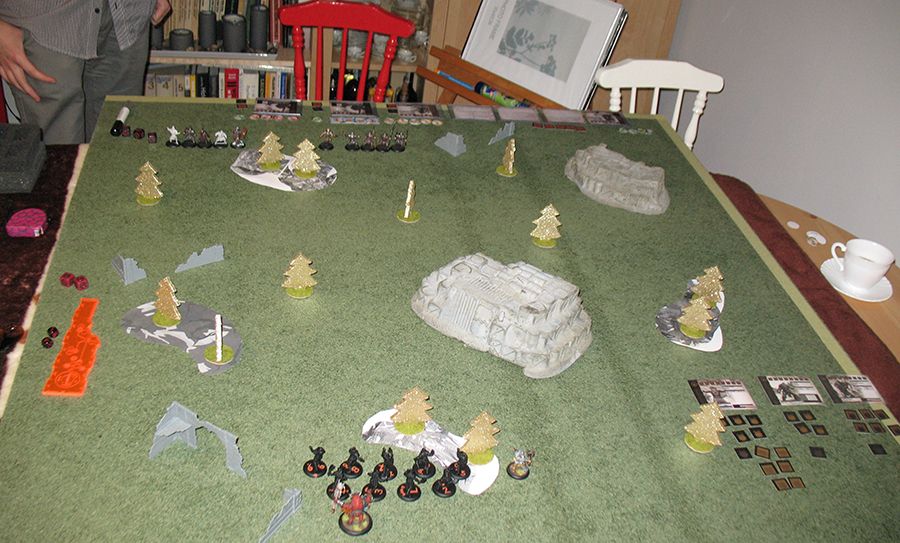 The first turn was simple - advantaging with our soldiers.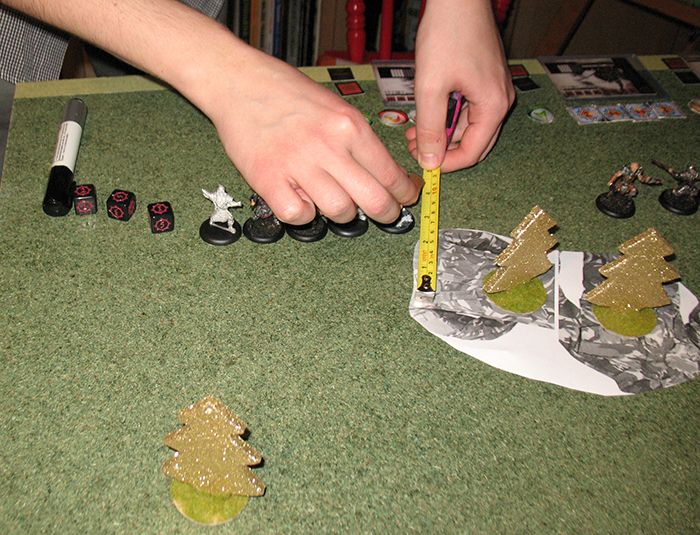 I started with the Crazy Cow, casting Long Legs on the Tribesmen: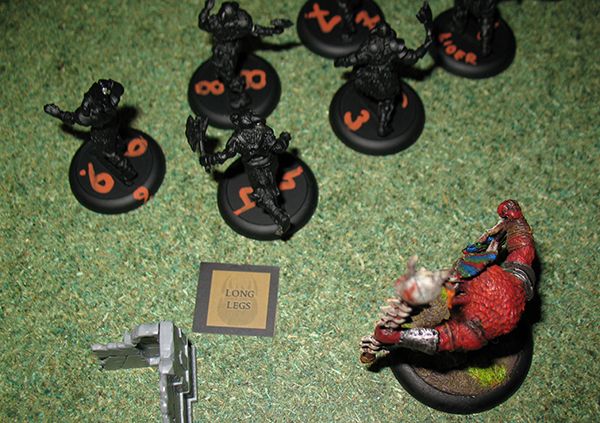 The Mortans came closer and so did my Tyrant ThoRmund, looking at enemies from behind a hill: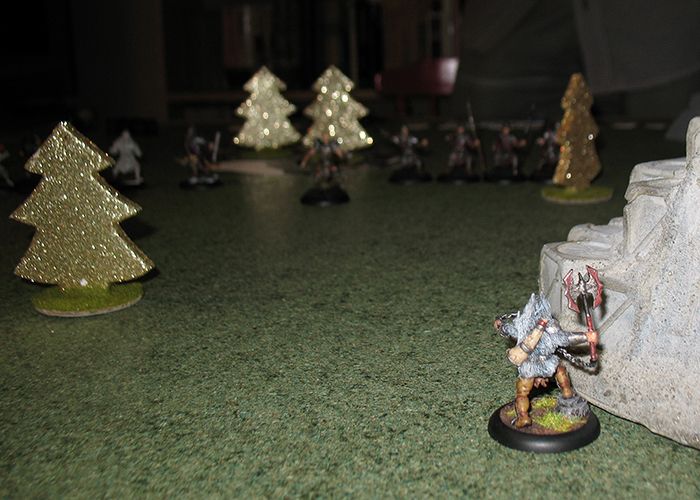 The Princeptor came a bit too close and that's how it looked after the first turn: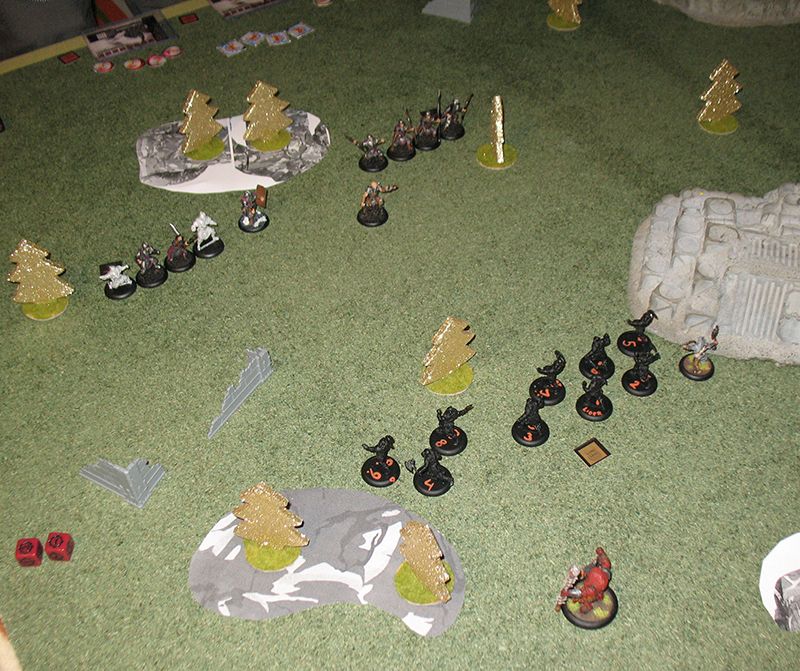 My plan was to stay away from enemy charges and then use the upgraded Long Legs, so I sustained the spell.
If I remember correctly I won the Initiative in the second turn and gave the first move to the enemy. I think that the Centurion activated and gave few of his ACT to Legionnaires and Princeptor and left 2 for some CounterAttack. He maybe gave some Tactics too, I'm not sure now.
Then I activated the Crazy Cow and started to cast some spells! Firsty I upgraded the Long Legs to make Tribesmen a Light Infantry, then I managed to cast on them the Bugstalk Eyes and even upgrade it!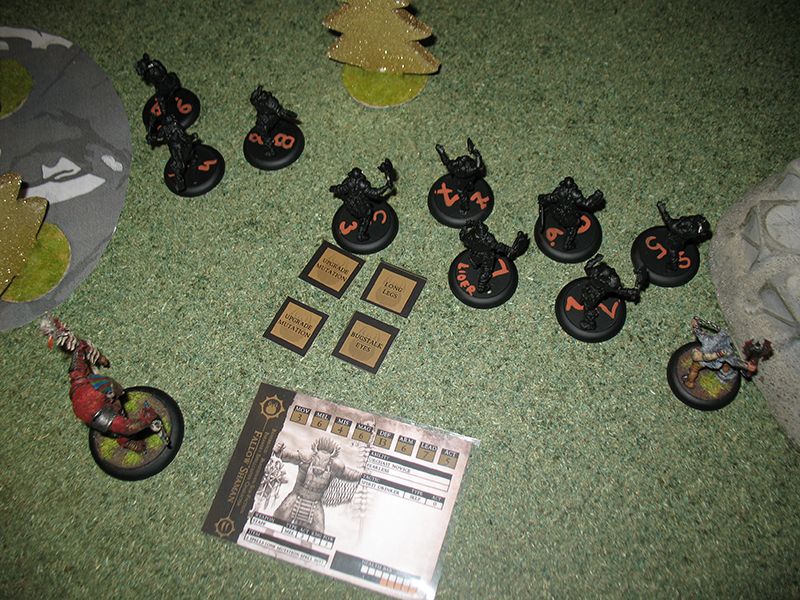 So now I had a highly buffed unit and I activated them with a beautiful long charge, going into base contact with the lone Princeptor, the Centurion and even some Legionnaires from each unit: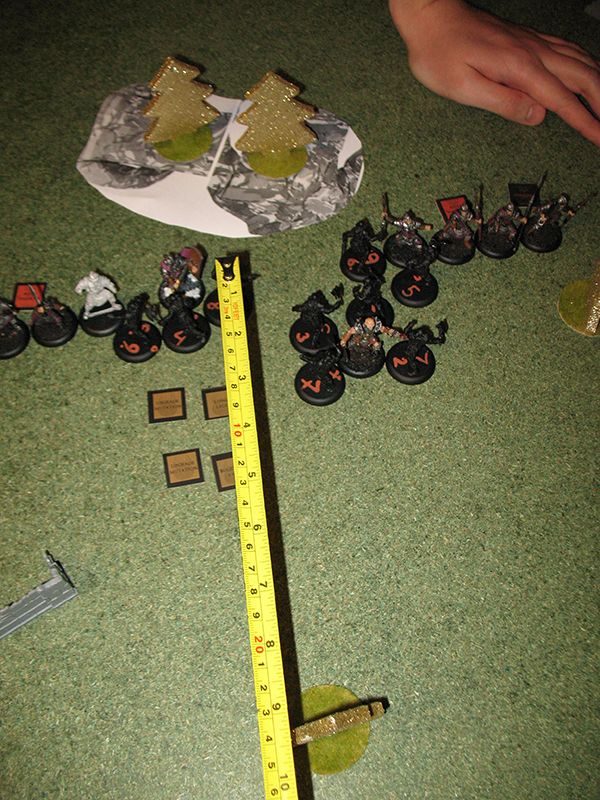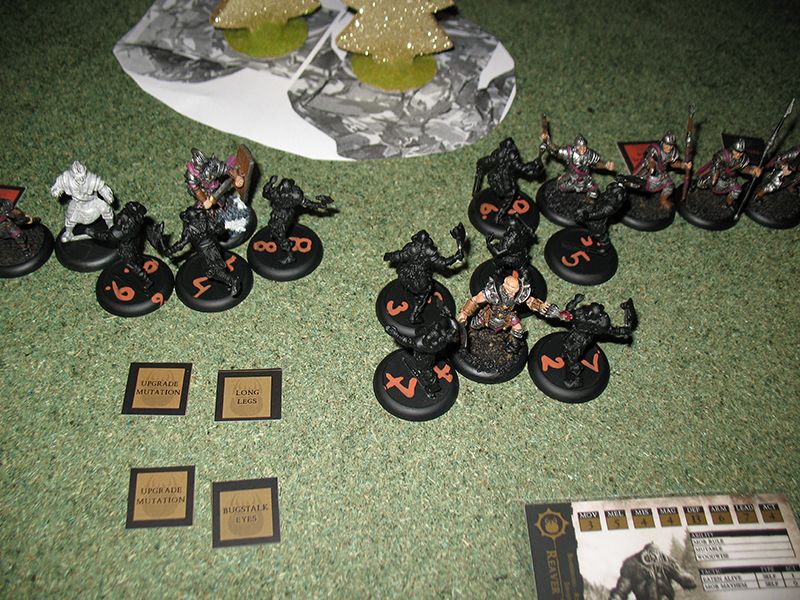 What happened next I'll write in the next post
...
---
...
The battle begun!
Our trooop clashed in a merciless battle!
The buffet Tribesmen was counterattacked by Princeptor, but he didn't hit. My Reavers was deadly and the charge attack killed the Princeptor outright!
The leader - ThoRbjorn - accompanied by 3 soldiers didn't give the mortan any chance: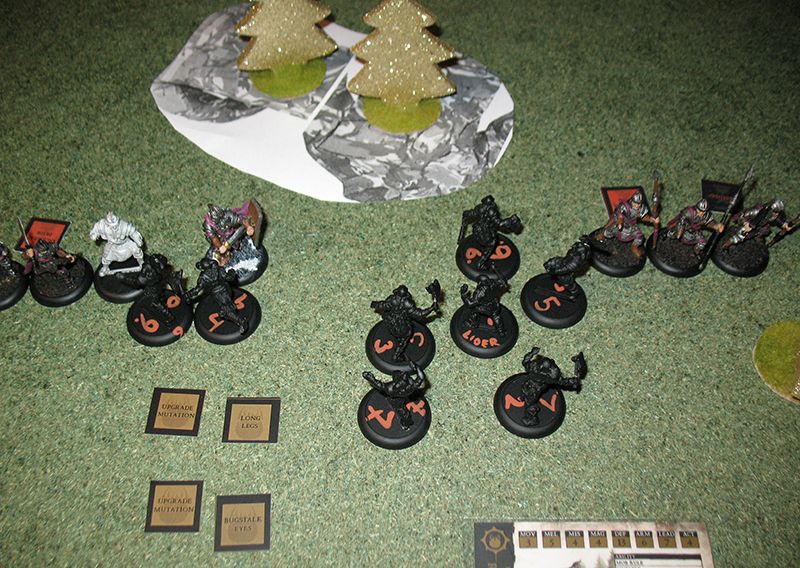 The Centurion used his CounterAttack and thanks to higher Strike Rank killed my Reaver nr 8 before I could hit him.
The Reavers on the left did nothing, but two Tribesmen nr 5 and 9 killed a Legionnaire in the right. This was a great turn for BaneBrood, as you can see in the picture higher.
Then I made a move, gettin in base contact with the Centurion and a Legionnaire in the right. I used the Eaten Alive tactics, the Centurion fell on the ground and suffered few wounds: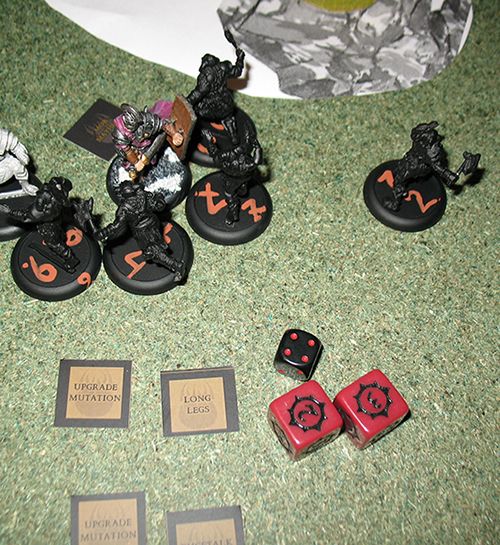 The Legionnaire in the right was eaten by few Tribesmen and ThoRbjoRn!
The legion was in pain. The unit in the left activate, stand up and moved and attacked my tribesmen killing 2 of them: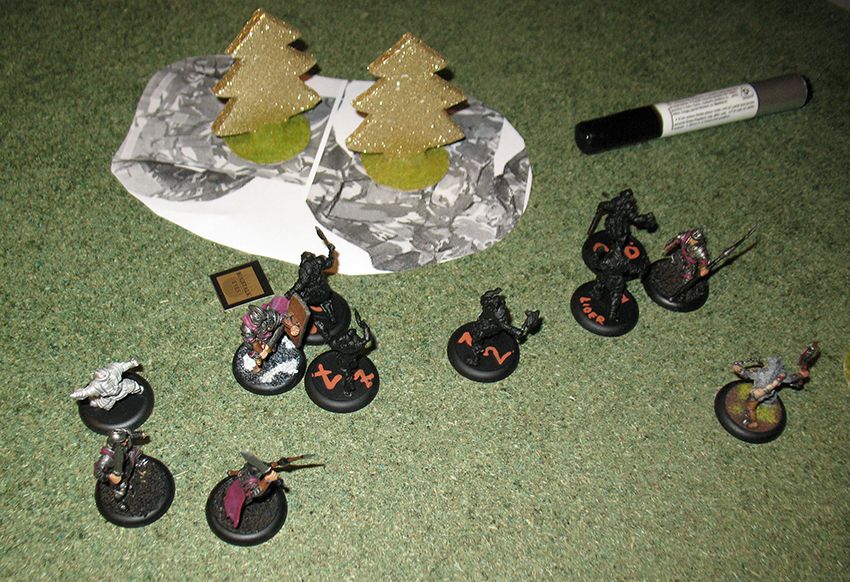 The unit in the right also attacked my tribesmen, did some damage but no kills if I remember correctly.
My Tyrant used all his 4 ACT to move closer and even manage to get into melee range with a Mortan of the right unit. He hit him hard and killed him thanks to his brutal Barbarous Strengh rule.
The next turn was just a bloody festival - I sustained the Bugstalk Eyes at first and then won the initiative.
My ThoRmund wanted to kill someone worthy so I buffed him with Witchweed Extract and then charged into the fight with lying Centurion.
The Mortan didn't stand a chance against furious attack and died.
ThoRmund then killed some Legionnaire.
After few activations and even killing someone with my Shaman it looked like this: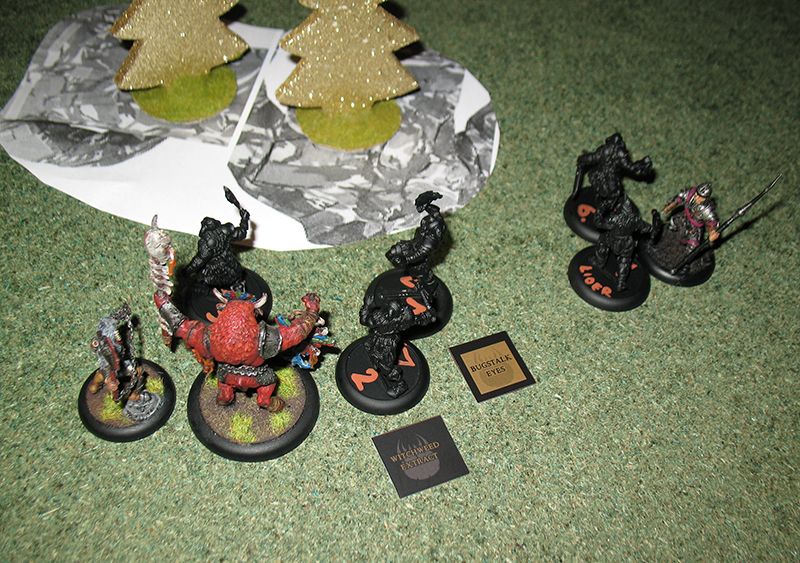 And when the battle dust subsied there were only BaneBrood left on the battlefield: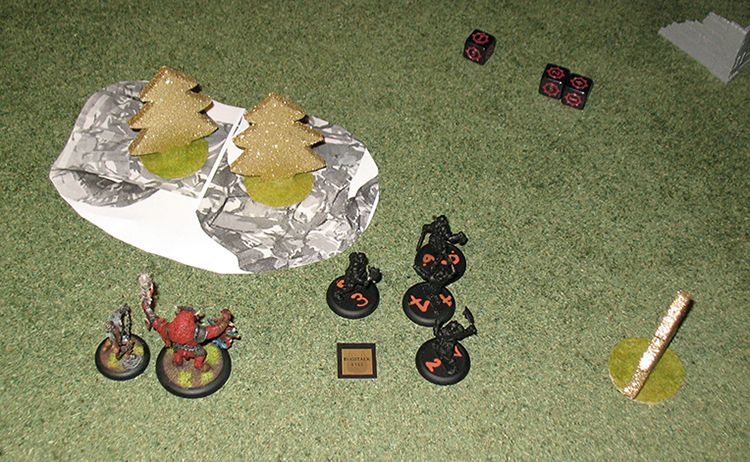 The Mortans killed my ThoRbjoRn, the leader of Tribesmen, but their failure was obvious.
And thats how the generals look - me in the left and
HanSolo
in the right: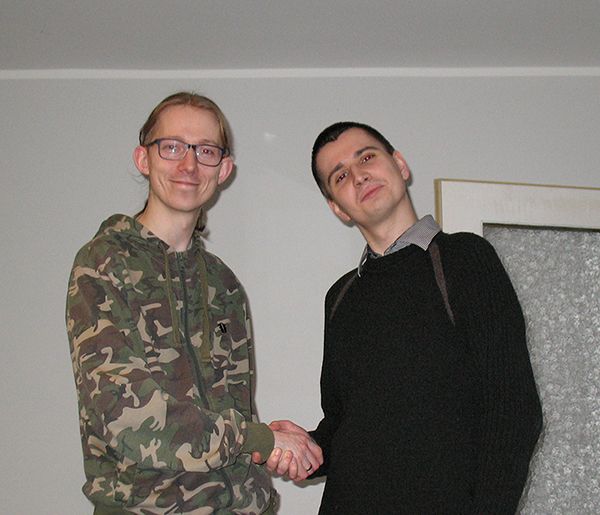 As a some summary - I wrote before, that I wanted to play pure Reavers army, but after testing the combination of Shaman with Tribesmen it's hard not to use it
Charging before the enemy charges is great not only thanks to the bonuses to hit and damage (which against ARM 9 is great), but it's great way to survive. In two earlier battles I was charged by Mortans and lost many Tribesmen because of this.
And we have some questions about the rules, so if you know the answers please tell us
Does the charge bonus (or the powerful style bonus) also adds a +1 do the direct damage? As it's written on the page 71 in Charge Bonuses: "Charge bonus gives them boht +! MEL and +1 POW for their melee attack and damage/direct damage!"
But it's not clear to me if this bonus also adds +1 on the direct damage roll thanks to critics?
And does it work also with Eaten Alive, if the tactis was used after a succesful charge (or in a turn in which I'm using powerful style)?
And lastly, do this bonus also count when I'm damaging enemy thanks to a plague, like Bubonic Plague?
For example: I'm charging with a Mongrel with this Plague, I use the Ambidextrous attack for 3 ACT, I have +1 to Power, then I hit a critic. So I'm doing 3 or 4 direct damage? And the Plague does D3 + 1 direct damage or D3 + 2 thanks to the charge?
Thanks in advance for the answers.
And thanks for reading!
Sorry if my English is hard to read, I'm not native, it's good that as a Reaver I can read and write at all
PozdRawiam / Greetings